Latest deals
The following products have just arrived and can be and viewed and purchased in our store at any time.
Your dependable partner
David Mischkulnig, owner and managing director of Alpen Adria Jagd- und Sportwaffen GmbH, has successfully completed the technical school for gunsmiths in Ferlach in 2005 and has been working in the firearms and ammunition industry ever since.

From 2006 to 2013 he worked at Sodia Salzburg as a gunsmith and salesman, and from 2013 to 2017 he managed Jogdhittn GmbH in Mondsee. In October 2016 he opened Alpen Adria Jagd- und Sportwaffen GmbH in Villach, followed by a second store in Grafenstein.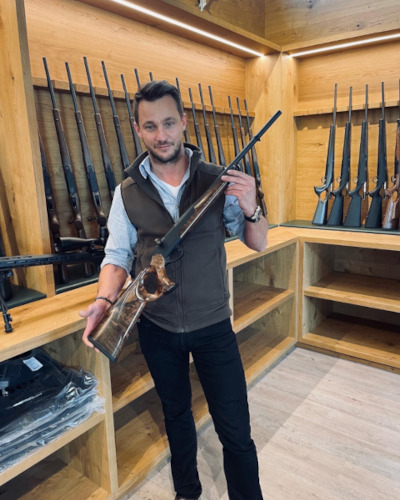 David Mischkulnig
Owner & executive manager
I've been in the firearms industry for over 17 years and can handle anything from traditional hunting weapons to the latest sporting arms without any problems.

Being a passionate hunter and marksman myself, I can provide my customers with first-hand experiences regarding products from the hunting, sports and textile sector.
Our services
We offer the following services at a fair price at our locations:
Weapon safety course
A weapon safety course ("Waffenführerschein") is mandatory for obtaining an Austrian firearms license ("Waffenbesitzkarte" / "Waffenpass"). After making an appointment, this training can be completed at our store in Grafenstein from Monday to Saturday.
Zeroing in
We are able to make test shots in order to verify your weapon's accuracy and help you choosing the right type of ammunition for your use case.
Sale of used weapons
One of our strengths is the sale of different weapons, such as from legacies. We make an estimate of the weapon's value which can be paid out to you in cash and take care of the registration.
Weapon repairs
Whether it's a simple refurbishment or a complicated restoration of a broken stock - we can inform you about the feasibility and cost of a repair.
Got any questions?
We are happy to advise you regarding our services or the latest hunting and sport shooting products.
Visit our store or give us a call and we will take time for your issue.
Impressions
The following pictures give you some insights into the worlds of hunting and sport shooting and an overview of the various items that can be purchased in our stores.
All
Hunting
Sport shooting
Stores
Acchievements we are proud of
Our goal is to convince you with many years of experience and persistent commitment.
Store Villach
Our flagship store is located in the city center of Villach at the Parkhotel. At a space of 180m² we offer you a large selection of hunting and sporting weapons as well as clothing and accessories. Parking spaces are available at the back within a walking distance of 3 minutes and a loading zone upfront can be used.
Address
Moritschstraße 2
9500 Villach
Email
verkauf-villach@alpenadriajagd.com
Store Grafenstein
The secondary store is located at the center of Grafenstein, in direction of the Pakein shooting range. On 230m² of retail space you will find everything related to hunting and sport shooting as well as a large selection of clothing. Also, the weapon safety course can be completed at this location.
Address
Klopeinerstraße 2
9131 Grafenstein
Email
verkauf-grafenstein@alpenadriajagd.com